Jill Steenhuis, an American from Atlanta, Georgia, received her BFA in studio art from Sweet Briar College in Virginia in 1980. Following graduation, she journeyed to the south of France to discover Cezanne's Mont Sainte Victoire and entered The Marchutz School of Fine Arts in Aix-en-Provence. She became a full-time painter and spent 14 years working out of Cézanne's studio at the Château Noir.
Jill has exhibited in solo shows in New York City, Greenwich, Atlanta, Chicago, Washington DC, Dallas, San Francisco among other major American cities, as well as Melbourne, Australia, Aix-en-Provence and Paris, France. Her work is part of the permanent collections of several museums and important private collections in America, Australia and France. Jill appeared on "Good Morning America" and served as the Cézanne specialist for the Smithsonian Institute for the 100th anniversary of the painter's death.
The artist resides in the countryside of Aix-en-Provence with her sculptor husband and three sons, who are also artists in ceramics, sculpture and filmmaking. Jill organizes annual tours to the United States to exhibit and sell her work in galleries, museums and at private events. As an independent artist, she has always worked with nonprofits and charitable organizations, donating proceeds from the sale of her art. The spirit of giving and connectedness is what has given her deeper inspiration and meaning in the art that she creates. Jill is regularly invited to speak at various venues, and also teaches private and group oil painting workshops in the USA and in Provence.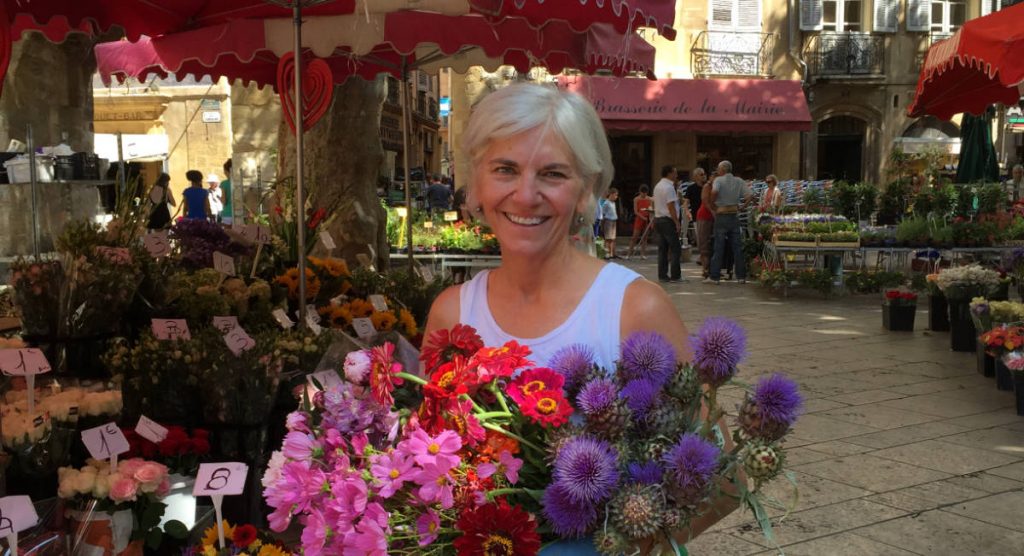 Since I was a child, I have loved art and the act of creating above all else. Because my mother died when I was only 8 years old, creating filled a void for me while also becoming a concrete and spiritual activity. My father had a passion for Shakespeare and art. He gave me a book of Cézanne's paintings by John Rewald for my 16th birthday, sparking my interest in Cézanne.
In 1980, I graduated from Sweet Briar College in Virginia with a degree in Studio Art. For four years, I studied art history and had extensive technical training in all mediums of expression – painting, drawing, printmaking, sculpture and photography.
By age 21, I felt more like a scientist than an artist. The summer after graduation, I entered The Marchutz School of Fine Arts in Aix-en-Provence, a school that taught me painting in the tradition of Cézanne. What I learned in this school changed my life. I painted "en plein air devant le motif" (outdoor painting on the site) in order to listen to nature and use my eyes to see, engaging my senses to receive the mystery of what was before me.

Drawing and painting became a way of life, my habit of being. My eyes began to see all things in terms of light and dark, warm and cool. I learned the discipline of painting on a daily basis and the necessity of approaching nature in a humble way. I also learned to let go of the intellect and the self, letting the brush strokes go on rapidly, uncalculated, in an organic dialogue.
By the end of my summer studying at the Marchutz school, I had fallen in love—not only with the man who would become my husband, but also with my new way of life and devotion to painting and drawing. With my father's blessing, I stayed in France and have lived here ever since. The spirit and philosophy of The Marchutz School of Fine Arts continued among those of us who remained in Aix-en-Provence through daily drawing and painting sessions at Château Noir. Seminars and critiques also took place out of a need to search for our own vision and to remind ourselves of the truths that Leo Marchutz had given us as a foundation. At this time, I realized The Marchutz School of Fine Arts was more a movement, like Impressionism or the Barbizon School, than it was an institution. It is vital to the art of this century; it is here to stay.
In the '80s and '90s I had a studio at Chateau Noir, which is privately owned and not open to the public. I lived and painted in the very spots where Cézanne had painted, as well as in Arles and Saint Rémy where Van Gogh had been. How intimidating it was and still is to find my way and come upon my own unique vision. The more I paint, the more I see, and the more I understand that the only way to arrive at one's own vision is through work—driving myself to go beyond my limits; stretching myself to listen, feel, smell and taste nature with my paints and canvases. Being silent in nature and contemplating it through the senses is vital to my creative way. 
Now, with over 40 years of living and painting here in the Aix countryside, I continue to work steadily outdoors. I feel a strong attachment to the earth and to the small farmer. There is nothing more exciting to me than painting a group of workers gathering garlic from the fields: the smell of the garlic and the sun-baked soil while my eyes and heart engage with the scene of garlic pickers bobbing up and down like musical notes; their straw hats like halos making them into saints—the humblest among us.
As I look back on my work from recent years, I see a certain energy in it. I see that I am still attached to my influences — the great masters and all that I learned from The Marchutz School  — but I also perceive a step forward in my own vision. Every painting for me is a prayer and it's putting me in communion with the Creator. This connectedness that I experience through art allows me to navigate trials and suffering, and keeps me aware of the preciousness of life. Day after day, I bring home wet canvases and hang them on the walls until there is no space left. Seeing all the work gives me courage to discover a new poetry in nature through my next painting; work that is my own and at the same time "dans la lignée d'art" (in the lineage of art), as Leo put it.
— Jill Steenhuis
In my painting, the catalyst is nature. Being immersed in it, my soul is moved to create. A multitude of elements envelope my being, embrace me, enter my soul. Through this act of painting, my soul engages in a dialogue with nature.
The mystery is before me. Silence: I must enter the realm of silence. Listen: not to pre-conceived notions, not to voices of the to-do list, but to the sounds of the reeds swishing together in the breeze. Smell the earth, notice the movement, like brush strokes zigzagging across the page of sky and earth in a calligraphy that shows the way to my soul.
I must render, not state; suggest, not complete; remain sensual, not intellectual; pure, not literal; courageous, not safe; and never misuse the powers I have been given.
There are so many choices. Focus on one. Which one? The one you love. How do I start: from the inside out, or from the outside in? I begin from within, placing shadows to give birth to the light.
In my silence I can hear. In my blindness I can see. In my spirit I can touch and taste the mystery. It is not what I expect. For if it was, it would be calculated; it would be safe; it would not be created because it would not be unknown. It would not be my "blue peninsula," as Emily Dickinson calls it. The true mystery reveals itself as I work, as I let go. It is a gift. There, the blank canvas exists. It exists to make one taste the eternal.
Huntsville Museum of Art – "Featured Artist of the Year", 1997 (Huntsville, AL)
Marietta Cobb Museum of Art – Solo Show, 2004 (Marietta, GA)
The Alexandria Museum of Art – Solo Show, 2002 (Alexandria, LA)
Musée Granet – Group Show, 2005 (Aix-en-Provence, France)
Virginia Center of Creative Arts (Amherst, VA – USA)
Spring Island Trust Artist Residency (Spring Island, SC – USA)
The Carnegie Club – Skibo Castle (Dornoch, Scotland – UK)
Olmsted Plein Air Invitational (Atlanta, GA)
Cashiers Plein Air Festival (Cashiers, NC)
Salmagundi Club (New York City, NY)
Winter Park Sidewalk Art Festival (Winter Park, FL)
Atlanta Fine Homes – Sotheby's International Realty (Atlanta, GA)
Atlanta History Museum (Atlanta, GA)
Huntsville Museum of Art (Huntsville, AL)
Spring Island Trust Collection (Spring Island, SC)
Sweet Briar College Museum (Sweet Briar, VA)
The Federal Reserve Bank of Georgia (Atlanta, GA)
The Françoise Gilot Gallery (Newnan, GA)
Mr. & Mrs. Daniel Amos of Aflac; the Honorable & Mrs. James A. Baker, III of Houston, TX; the late Mr. Douglas Billian of Art & Antiques magazine; the late Mr. Benjamin Hardaway, III (Master of American Foxhounds); the late Mr. Peter Jennings of ABC News; Mr. and Mrs. A. J. Land; Mr. Brad Martin of Saks Fifth Avenue Stores; the late Mr. Roger Milliken of Milliken Textiles; Mr. and Mrs. Dikembe Mutombo; Mrs. Jenny Pruitt of Atlanta Fine Homes, Ms. Frances Schultz, the late Mr. Robert Shaw of the Atlanta Symphony Orchestra; Ms. Sela Ward, and others.
Nonprofits that have benefited from Jill's shows —
Alexandria Museum of Art
American Cancer Society
Boy & Girls Clubs of America
CASA (Court Appointed Special Advocates)
Children's Cancer Fund
Friends of Vieilles Maisons Françaises
Church Health Medical Clinic of Memphis
Dwell with Dignity
High Museum of Atlanta
Historic Savannah Foundation
Hope and Healing Center & Institute of Houston
Huntsville Museum of Art
Huntsville Symphony Orchestra Guild
Infant Crisis Center
Juvenile Diabetes Research Foundation
Lena Pope Home
Make a Wish
Meals on Wheels
MS Society
National Wildlife Federation
Opening Doors for Women in Need
Pace Academy Alumni Association
Saint Louis Woman's Club
SCAD Savannah College of Art
Shepherd's Spinal Center
Southern Cultural Heritage Foundation
Sweet Briar Scholarship Fund
The Center for Family Resources
The Children's Fund
The Exceptional Foundation
The McCoy House Extended Care for Women
The New York Junior League
The Salvation Army Women's Auxiliary
VCU Massey Breast Cancer Center
Village of Promise
Volunteers of America
YMCA Partners with Youth
Young Life Africa