2024 Painting in Provence
May 24-June 1, 2024 (FULL)
September 20-28, 2024 (FULL)
July 5-13, 2024
— Van Gogh Motifs —
—
Private individual and group workshops are available (oil painting, pastels & drawing). Contact us directly for more information.

Discover the magic of painting in Provence during a week-long oil painting workshop. 
You will be guided by Jill, who has been living and painting in the landscapes of Provence for over 40 years. This is a truly immersive art experience in which you will live like a local and paint from some of the best spots Provence has to offer.
Designed for both confirmed painters and beginners, Jill's workshops focus primarily on color, mixing a harmonious palette, oil painting techniques, and the creative process.
Participants embark on a journey to explore Provence in a unique way, drawing and painting from nature – en plein air – at the sea, in the hill towns, at the Aix market, and at the sites of the Provençal masters.
"I not only learned great things from the workshop about painting, but also about Life. I miss all of you, and send much love and happiness your way"
"My biggest takeaway was recognizing that I am free to play around more with color & brush stroke... it doesn't have to be perfect to be beautiful!"
"I had a fabulous painting trip with Jill and will cherish these memories for a lifetime!"
"Jill is amazing! I have never met someone with such inner peace and love."
"The best part for me was the personal, intimate touch of the entire experience."
"I loved the total package: museums, on site visits and painting, as well as experiencing French culture."
masters of impressionism —
This workshop also includes a cultural dimension concentrating on Cézanne and Van Gogh. During the week, participants will visit and paint on the very sites where the impressionist masters painted.
Personalized instruction —
Workshops are limited to a number of eight participants, which provides individual attention in an intimate group setting. During the week, Jill takes time to coach each participant individually, providing them with valuable guidance and feedback.
This workshop is a personal and spiritual experience, like climbing a mountain within yourself. It's a moment to step back, slow down, observe and experience the beauty and wonder in and around you. Students are encouraged to see, hear, smell, taste, and feel nature as a catalyst for their artistic expression.
"If you hear a voice within you say, 'you cannot paint,' then by all means paint, and that voice will be silenced." – Vincent Van Gogh
If these words speak to you and wake up a desire to paint, then join Jill for a workshop.
Open to beginners, experienced painters and non-painting participants alike.
Painting with the Seasons —
 "Art exists… to make us taste the eternal." – Paul Cézanne
Standing in fields of wheat, sunflowers or lavender of Provençe, in the fishing village of Cassis or in the flower markets of Aix, participants celebrate nature with color.
Seasonal Workshop motifs
May – Poppies
June/July – Sunflower & Lavender
September – Vineyards & Olive Groves
January/February – Market & café Scenes (on demand)
We take care of everything —
MEALS – From home-cooked Provençal meals, to village cafés, seaside restaurants and evening apéritifs, most meals and beverages are included.
GROUND TRANSPORTATION – From arrival to departure, you will not have to give a second thought to getting around – we have you covered.
ART SUPPLIES & SHIPPING – Absolutely everything is included and will be provided. Your paintings will be shipped back to you at no extra cost.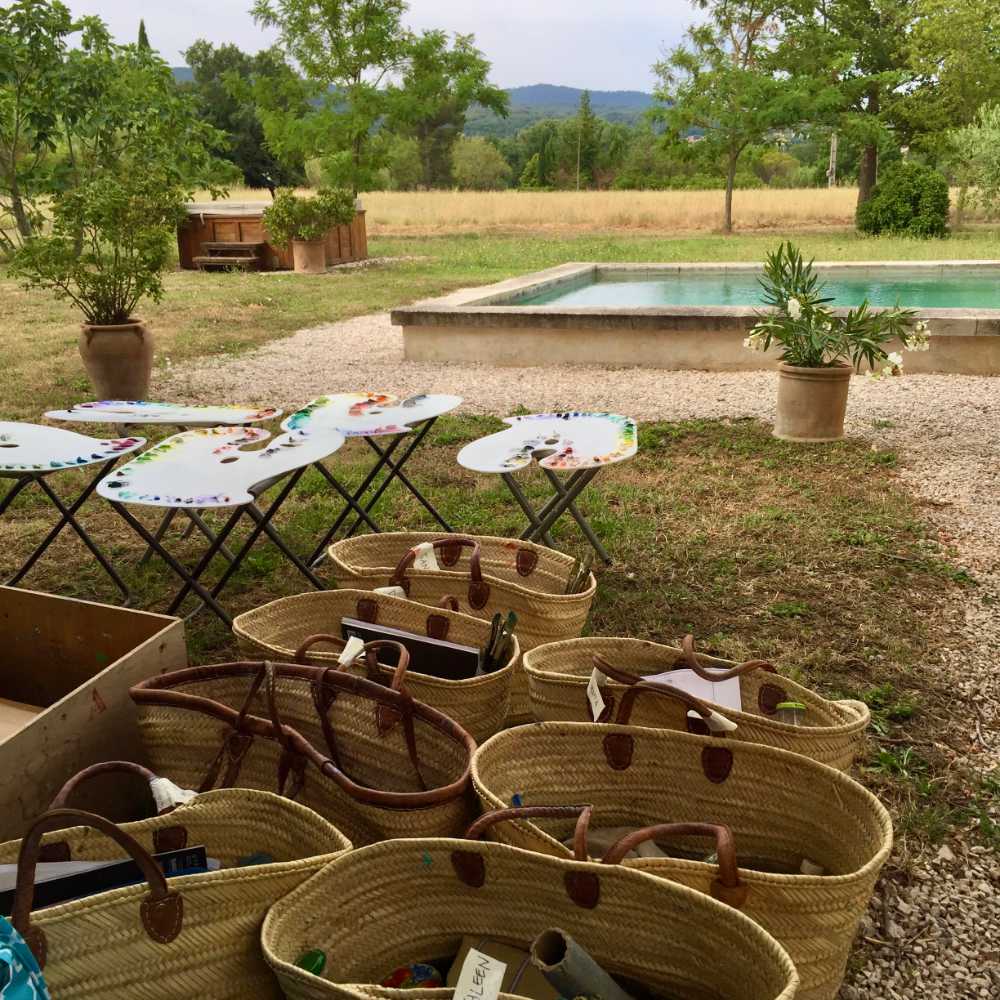 Painting is not everything —
This workshop takes place in the heart of Provence, and includes travel and visits to some of the most beautiful sites in the south of France.
For those who would like to have more time to explore the surrounding areas, shop in the local markets, experience fine dining or visit vineyards, it is highly recommended to extend your stay before or after the workshop. Let us know how we can help you make your plans.